Tumors or cancers are normal cells undergoing uncontrolled cell replication. Nasal tumors are therefore normal cells undergoing uncontrolled cell replication within the nasal cavity (nostrils).
The commonest form of nasal tumor in dogs is the adenocarcinoma. This happens when the glandular cells of the lining of the nasal cavity undergoes rapid uncontrolled cell replication. Adenocarcinoma is tumor of glandular cells.
Glandular cells are type of cells that secrets bodily fluids including digestive juices, mucus, sweat etc. Adenocarcinoma can occur in organs like lungs, esophagus, prostate, colon, pancreas, mammary gland and any other organ that secretes bodily fluids.
DIAGNOSIS OF NASAL TUMORS IN DOGS (ADENOCARCINOMA)
Adenocarcinoma like other tumors in dogs required a certified veterinarian to diagnose, your veterinarian may take:
Blood sample; serum and whole blood may be taken for laboratory analysis. This may give indications on how well the organs involved are doing and any inflammatory process going on within the body.
Diagnostic imaging; CT scan, X-rays or MRI can help your veterinarian diagnose cancers depending on resources available and the location as well as size of the tumor
Tissue biopsy: with this method sample tissue of the affected area together with some good tissue is taken to the lab and the individual cells analyzed. This gives a clear picture of the nature of the cells and the rate of replication. This method helps to confirm a diagnosis
TREATMENT OF NASAL TUMORS IN DOGS (ADENOCARCINOMA)
Treatment of tumors require surgeries, chemotherapy, targeted treatments, radiation or a combination of a number of methods depending on the type, stage, location or level of spread in the body of the patient. Your veterinarian will decide or discuss with you which method best suits your pet.
CASE STUDY
PUTATIVE ADENOCARCINOMA IN THE NASAL CAVITY OF A 5-YEAR OLD INTACT MALE DOBERMAN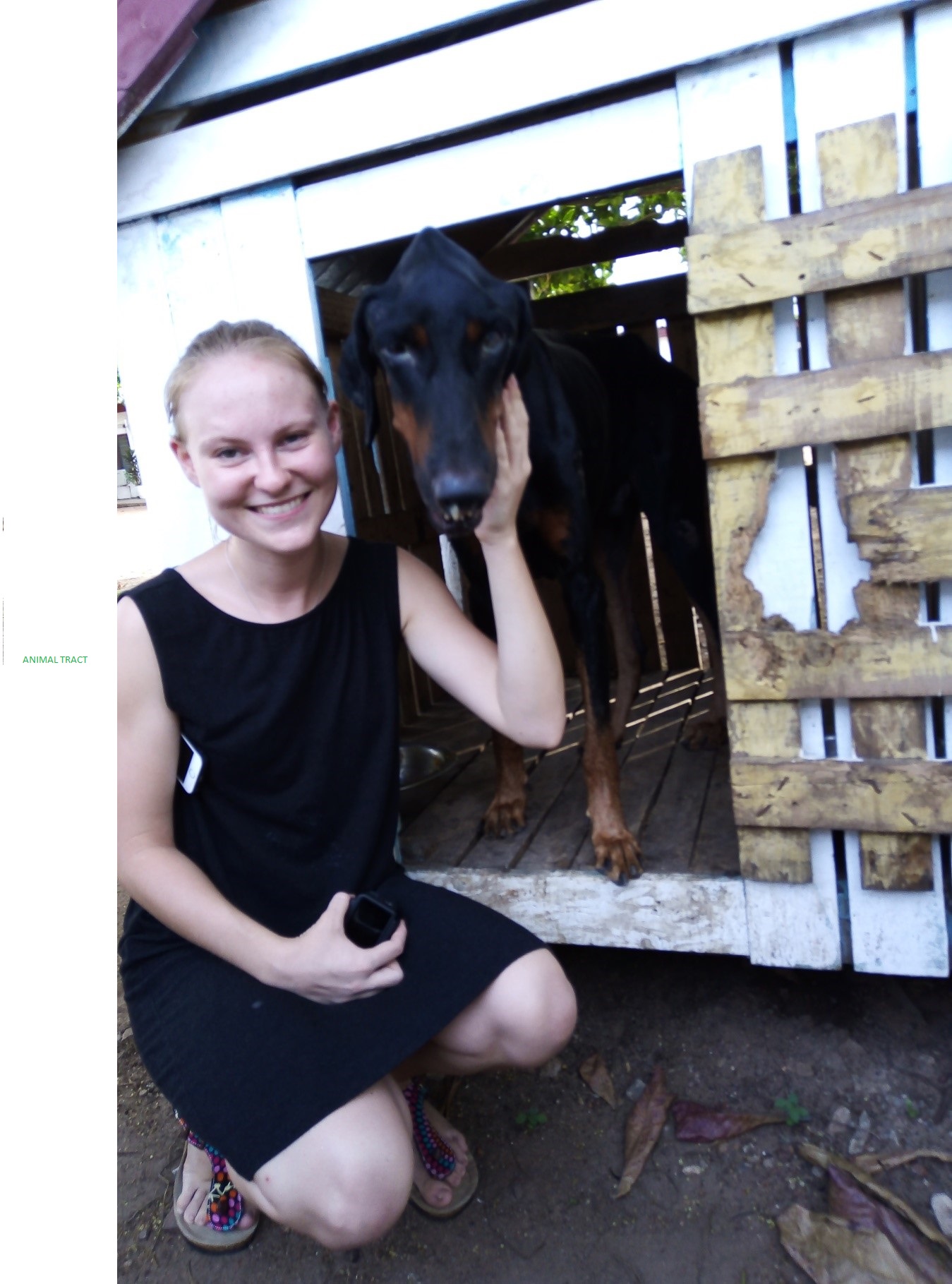 Beauty, a student intern with pole 
HISTORY /SIGNALMENT
A case was presented on the 8th Aprl,2019 with a chief complaint of copious continuous purulent nasal discharges which started with anorexia, breathing through the oral cavity and an initial epistasis and bleeding into the mouth. Pole had lost about 20kg of weight, dehydrated and had been on antibiotics (amoxiclav) for 3 weeks.
FIRST DAY OF PRESENTATION 8TH APRIL,2019.
PHYSICAL EXAMINATION:
Temperature: 39.4°Ϲ,
weight: 32kg,
breathing rate;20 bpm,
no abnormalities were detected with the cardiovascular system
Submandibular lymph nodes were slightly inflamed,
purulent nasal discharge,
about 3cm diameter mass on the caudal border of left lateral side.
palpation revealed an increase in the nasal discharge anytime the junction between the hard palate and soft palate (in the area of the vomer) was pressed against the floor of the nasal cavity. Similar discharges were seen at the base of the tongue,
pharyngitis.
poor dental care with some broken and worn out teeth.
DIAGNOSTIC PLAN OF NASAL TUMORS IN DOGS
Blood samples were taken for CBC and parasitology,
kidney and liver function test,
 radiography of nasal cavity, head , trachea and esophagus were recommended
DIFFERENTIAL DIAGNOSES
Nasal neoplasm
Carnassial Tooth abscess
Pneumonia
Fungal infection
Foreign bodies
Prophylactic treatment OF Nasal Tumors in Dogs
Infusions
Anti-inflammatory,
Antibiotics
RESULTS
Haemogram proved clear anaemia
Kidney and liver function test confirmed poor nutrition and dehydration
Radiographic images were not conclusive
CASE REVIEW ON 10TH APRIL,2019.
Temperature: 39.3°Ϲ
weight :31.63kg
Still not eating but drinks in bits, nasal discharge still copious.
Not much improvement seen after previous treatment.
TENTATIVE DIAGNOSIS: Adenocarcinomas in the nasal cavity
TREATMENT PLAN:
Patient status: admitted to intensive care unit
Infusions: ringer's lactate(500ml), dextrose normal saline(500mls)
Antibiotics: tylosin, penicillin and streptomycin
Vitamins: multivitamins, vitamin A and E, vitamin B-12
Haematinics
Nutrition: complan milk, hospital food
Chemotherapy:  vincristine sulphate, doxorubicin and carboplatin single dose alternated at 14 days interval starting with vincristine sulphate, followed by doxorubicin and carboplatin.  12th april,2019- vincristine sulphate
26th April, 2019 review: not much improvement seen, mass pushing on the roof of the oral cavity now visible in the area of the vomer bone. Doxorubicin was given.                                                                                                                              3rd may,2019 review: pole starts eating more of the hospital food, nasal discharge reduces, mass on the left lateral side becomes ulcerated and shrinks (improvement seen)                                                                                                         10th may,2019 review: pole starts having dark stool, stops eating again and nasal discharge starts again. Carboplatin injection was rescheduled.                                                                                                                                                                17th may, 2019 review: pole still shows signs of adverse effects of chemotherapy (ulcerations in GIT)
Pole was observed to be going through lots of pain and therefore euthanasia and postmortem  was recommended
POST MORTEM FINDINGS:
Pole was humanely euthanized and a post mortem conducted on him. The post mortem report showed the nasal tumor had metastasized into the spleen and lungs which confirmed the decision to alleviate the suffering.
DISCUSSION
This case presented the family of the dog, the veterinary team and dog himself a challenge of dealing with and going all out to fight the cancer while considering alleviating pain in our animal patients. The limited facilities available to detect the cancer early posed the greatest challenge. Doxorubicin seemed to have improved the condition of the patient but side effects were huge for a dog in that state.
Also Read: 56-YEAR OLD (HUMAN YEARS) DOG WHELP 15 PUPPIES TO BREAK 7 YEARS OF INFERTILITY
The medical team managed to convince the owners although it was difficult to allow for euthanasia to be done.
To fight cancers effectively, there must be application of modern technologies including artificial intelligence to detect and diagnose  cancer as early as possible to help save lives.
WE STAND WITH ALL CANCER PATIENTS AND WE ARE DETERMINED TO PARTNER IN THE FIGHT AGAINST CANCER OF ALL KINDS.