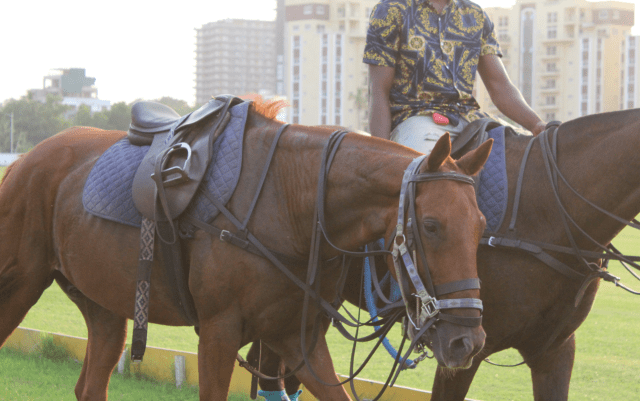 EQUINE DENTISTRY
Horses have molars, which are used for grinding and chewing food, as well as incisors, which are used for biting and cutting feed.
These teeth are constantly growing and, if untreated, could become painfully long or develop sharp edges, making it difficult to eat and creating discomfort.
Floating is the procedure of removing any rough or jagged edges from a horse's teeth in order to retain their ideal length and shape.
FLOATING THE TEETH OF HORSES
In equine dentistry, floating teeth is a popular procedure that supports a horse's dental health.
In order to prevent numerous health problems and ensure that the horse can consume and digest its food effectively, it is crucial to maintain the teeth at the proper length and shape.
Horses have a set of teeth that continuously grow throughout their lives.
A veterinarian or equine dental specialist will typically undertake the brief and very painless procedure of floating.
To make sure the horse is calm and still throughout the surgery, it is initially given sedation.
The dentist will then smooth down any jagged or rough edges on the teeth using a special instrument called a float.
The float is made to gently shape teeth without causing any harm to them and is soft enough to be utilized without upsetting the horse.
TYPES OF FLOATING OF HORSES TEETH?
In equine dentistry, hand floats and power floats are the two primary types of floats employed.
The majority of equine dentists use hand floats, which is the more conventional technique.
The dentist must physically crush the teeth with the float because they are metal and manually controlled. The dentist can finish the process faster with power floats since they are speedier and more effective and are powered by an electric motor.
HOW OFTEN SHOULD YOU FLOAT YOUR HORSES' TEETH
According to their age, breed, and degree of exercise, horses often have their teeth floated every six to twelve months. Horses that are ridden less regularly may require tooth flotation less frequently, whereas younger horses and older horses may require it more frequently. The frequency of floating also depends on the diet of the horse and whether it has any dental issues already.
BENEFITS OF FLOATING HORSES' TEETH
The process of floating a horse's teeth has various advantages.
It aids in maintaining the teeth's ideal length and shape, which are necessary for the horse to be able to consume and digest its food properly. It can be painful and uncomfortable if the teeth are too long or have sharp edges, which can result in trouble eating, weight loss, and other health issues.
Incorrect alignment of the upper and lower jaws can lead to malocclusion, which makes it difficult to chew and bite. Floating aids in preventing the development of malocclusion. A variety of health problems, such as trouble eating, jaw pain, and even infections, can be brought on by malocclusion.
Floating teeth can enhance a horse's performance and demeanor in addition to maintaining its dental health. Horses with dental issues could toss their heads, show resistance to riding, or even show resistance to being groomed as indicators of discomfort. These problems can be resolved by floating, which will enhance the horse's general well-being and make it more pleasant to deal with.
checkout equestrian and riding schools in ghana
It is crucial to remember that horse dental care encompasses more than just floating teeth. Additionally, it's crucial to routinely check a horse's mouth for any indications of dental issues, including any broken or loose teeth, unusual growth, or unusual wear patterns. It is crucial to seek veterinary care as soon as any concerns are found in order to stop the emergence of new health conditions.
In conclusion, floating teeth is a quick and efficient approach to keeping horses' mouths healthy. Regular floating can enhance the horse's general health and performance by reducing discomfort, pain, and other health concerns brought on by dental difficulties.
STEP-BY-STEP PROCEDURE FOR FLOATING HORSES TEETH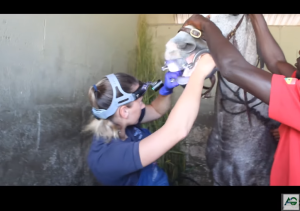 HORSE DENTISTRY; step-by-step procedure for floating horses' teeth – YouTube
1. planning It's crucial to get both you and the horse ready before you begin floating a horse's teeth. Ensure you have the necessary tools and supplies, such as a floating tool, a halter and lead line, a mouth speculum or gag, and a sturdy work area. To prevent adding unnecessary tension, it's crucial to approach the horse calmly and assertively.
2. Start by controlling the horse's head with the halter and lead rope before opening the mouth. Fix the mouth speculum and rub the horse's neck gently with your hand. By adjusting the mouth speculum, gently open their mouth. To ensure that your horse is peaceful during the procedure, your veterinarian may need to sedate it.
3. Before being examined, wash the horse's mouth with water to remove any food particles or debris.
4. Examine the horse's teeth to look for any issues with the mouth, such as shattered teeth or sharp edges.
5. To begin floating the teeth, use the floating tool to gently smooth down any jagged or sharp edges on the teeth. Avoid putting too much pressure on the horse because this could hurt or injure it. Float the upper and lower jaws equally, paying particular attention to any regions that might require more attention.
6. wrapping up As soon as the teeth have been floated, it's crucial to thank the horse for cooperating and give them a treat. Additionally, be sure to routinely inspect their mouth for any fresh edges that may have grown over time.