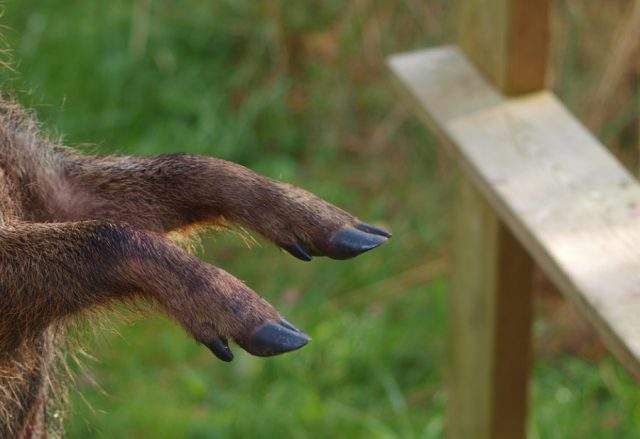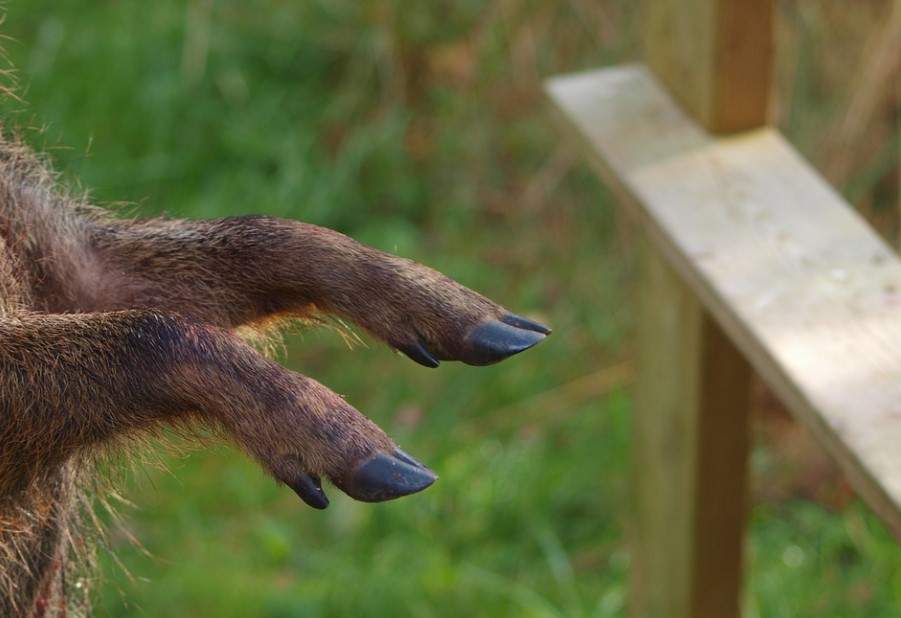 African Swine Fever is a highly contagious viral disease that can kill all the pigs on a farm in a matter of days to weeks.
In Ghana, the disease was first recorded in September, October and December 1999 in four districts in 3 regions (Greater Accra, Central and Volta Regions of Ghana), the two outbreaks recorded in 2000 occurred in the Dangme East District of Greater Accra Region and south Tongu District in the Volta Region.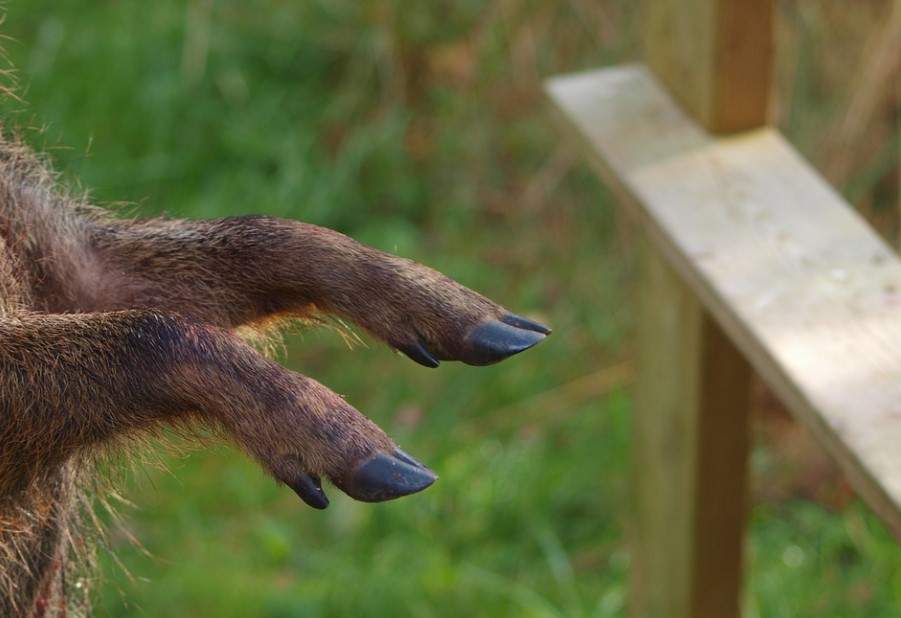 The next outbreak occurred in September, 2002 in the Zabzugu-Tatale district according to the unpublished thesis of Dr. Kwabena Peterson and Penrith et al, 2009.
CLINICAL SIGNS AFRICAN SWINE FEVER IN GHANA.
There are two forms that African Swine Fever  presents; the acute for and the chronic form
ACUTE FORM
The acute form which is common in Ghana presents with acute state of shock, disseminated intravascular coagulation with multiple bleeding in all tissues, high body temperature, cyanotic discoloration of the skin, depression, lack of appetite, weakness and reluctance to move, hurdling together and incoordination. Tarchycardia, purple discoloration of extremities, serous to mucopurulent nasal and ocular discharges occur. Dyspnea and cough, diarrhea, vomiting and convulsion, death within hours to 48 hours after the onset of clinical signs.
CHRONIC FORM
Pigs with the chronic form of ASF get more diffuse symptoms like emaciation, arthritis, pneumonia and dermatitis. Viremia can reoccur with periods of fever. Secondary bacterial infections are common. The pigs usually die within a couple of months.
TRANSMISSION OF AFRICAN SWINE FEVER
There are two cycles for the transmission of African Swine Fever, the sylvatic and the domestic cycle.
Also Read: 
SYLVATIC CYCLE
The sylvatic cycle involves the warthog and the domestic pig with ticks serving as the intermediate host of the virus. It has been established that warthogs are the natural hosts of the African swine fever virus but cannot transmit the virus directly to the domestic pigs however, the bush pig can transmit the virus directly to domestic pigs.
In West Africa, the existence of a sylvatic cycle has never been demonstrated, but single apparently incidental infections in a warthog and a Red River hog in Nigeria are widely regarded as the result of spill over from domestic pigs, and investigations in the endemic area in Senegal suggested that neither warthogs nor Ornithodoros ticks are involved in ASFV maintenance or transmission.
This sylvatic cycle has been proven to have played a role in the outbreaks of ASF in eastern Africa and southern Africa
DOMESTIC CYCLE
The domestic cycle involves the direct transmission of the ASF virus from one infected pig to a susceptible pig, consumption of animal products from infected pigs, and through contaminated fomites.
The hog louse hematopinus suis can also transmit the virus. It has been shown that biosecurity lapses in the pig value chain (production, transportation, marketing and processing, etc.) rank as the priority risk factors for the outbreaks of ASF and its sustenance in Africa.( (AU-IBAR et al, 2017)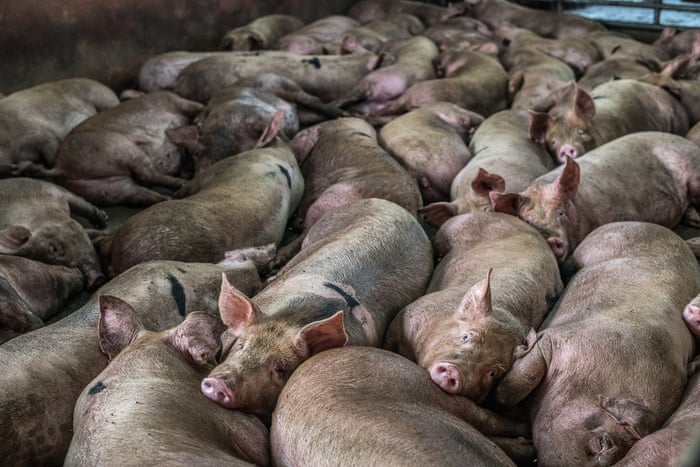 AREAS COMMONLY AFFECTED BY AFRICAN SWINE FEVER IN GHANA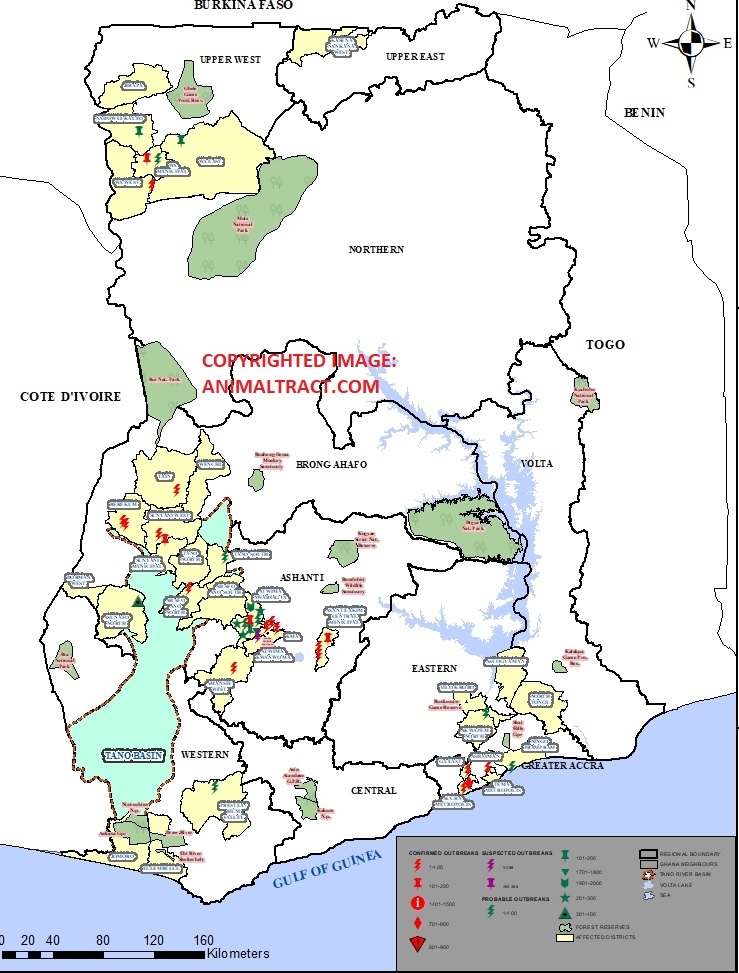 All the regions of Ghana have had their fare share of the outbreaks of African Swine Fever, however some regions have had recurrent number of cases. The map below shows the distribution of outbreaks of African Swine Fever over a ten year period. From the map, most outbreaks occur around the districts close to the Tano Basin and forest reserves in the country. farmers seeking to site their farms in these areas should have detailed biosecurity measures and good management protocols to be on top of their game.
Also Read: 56-YEAR OLD (HUMAN YEARS) DOG WHELP 15 PUPPIES TO BREAK 7 YEARS OF INFERTILITY
Central region recorded cases close to the Kakum Forest shortly after this study was over. Kasoa in central region is also considered an area that has recorded a number of outbreaks.
PREVENTION AND CONTROL OF AFRICAN SWINE FEVER IN GHANA
To prevent African Swine Fever, strict biosecurity measures such as:
Controlling number of people who enter your pig farm
Ensuring those who enter your pig farm are wearing the appropriate boots and clothing
Use of footbath at the entrance of the piggery and farm
No exchange of farm equipment with other farms especially those that have recorded ASF before or any sudden death in the pigs
The most efficient way of controlling ASF outbreaks is;
Humane curling out of pigs on affected farms
Quarantine of exposed pigs
Ban on movement of pigs in and out of affected area.
Contact the veterinary officer in your locality if you suspect African Swine Fever on your farm or if there is sudden death in your pigs.