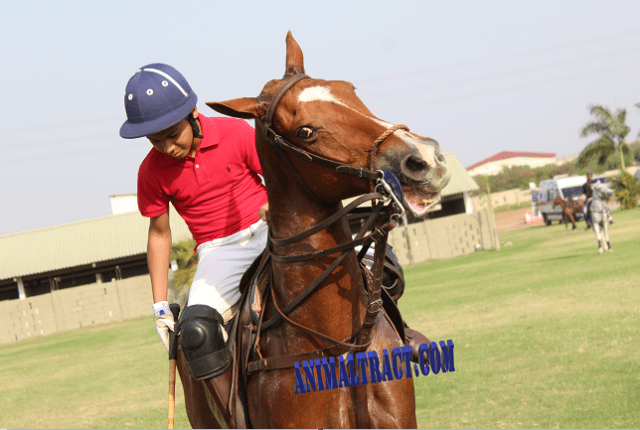 Petting horses, horseback riding, and carriage horse riding are essential services provided in all equestrian facilities with specializations based on the facilities available. There is an outburst of love for horses and horse-related activities in Ghana. Petting horses in Ghana is a service provided free of charge to horse lovers in Ghana once certain conditions are met. Horseback riding is popular in Ghana with a few facilities developing horse carriage riding in this part of the African continent.
do you intend to import dogs or cats into Ghana, this is a guide for you
 HORSEBACK RIDING SCHOOLS IN GHANA YOU CAN HAVE RIDING LESSONS FROM.
In Ghana, the interest in equestrian activities is increasing rapidly such that every resort near you may have horses for recreational activities. What if you want to become a professional rider or jockey? who can you trust and where can you get the required training and exposure for yourself or for your children?
This article will help you identify some trusted ridding schools in Ghana that would give you the horse riding skills you need in well-organized horseback riding classes.
1. ACCRA POLO CLUB RIDING SCHOOL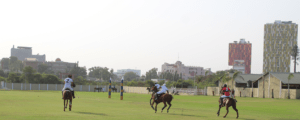 Services: first-class horseback riding lessons for all age groups and all levels of experience from novice to professionals.
contact:+233244358922
2. BURMA CAMP SADDLE AND POLO CLUB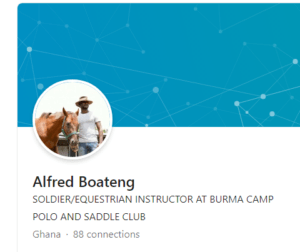 services: horseback riding lessons for all age groups
contact: +233208135898
Direction; off Burma camp road
3. BREEZE EQUINE SPORTS AND RECREATION CLUB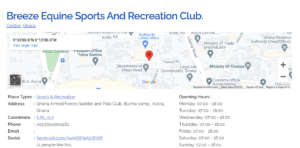 Contact: +233545504161
Direction: Ghana Armed Forces Saddle and Polo Club, Burma camp
4. SADDLE RIDES STABLE
services: riding lessons, wedding escort, funeral escort, carriage riding, horse rentals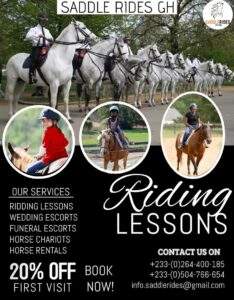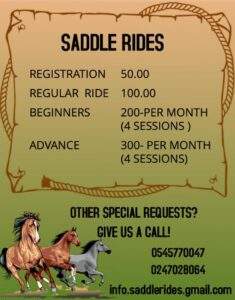 Contact: +233545770047
5. STARCORD RIDING CLUB
services: horseback riding
contact: +233246812812
6. OUTLINE SURVEYS EQUESTRIAN
services: trail riding (morning and evening sections), horseback riding class, horse rentals for all occasions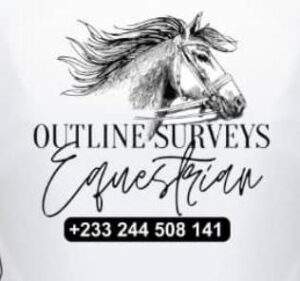 contact: +233244508141
Directions: Aburi botanical gardens
7. st. Georges Height
services: horseback riding class
contact:+233200100134
WHAT YOU WILL LEARN IN YOUR FIRST HORSE RIDING LESSON
Dress up appropriately before a horse riding lesson making sure you have a helmet on and a shoe with heels.
There is always the need to groom your horses before a ride since this gives you the opportunity to bond with your horse while keeping the skin and hooves clean. You would also identify with experience if your horse is not well or maybe lame which will prompt you to call your equine veterinarian.
After grooming, put your saddle on the horse beginning with a comfortable saddle pad. Fix your bridle which is more of the headgear of a horse with a bit and reins on from which your horse will be governed. From this stage, you need to mount your horse. Follow this set by step video lesson on some of the things you will learn in your first ridding lessons.
TRAIL RIDING AND CARRIAGE RIDING SERVICES
There are only a few facilities that provide these services at the time this article is being written.
outline surveys Equestrian provides trail riding services

Safari ValleyResort provides horse petting services, horseback riding services, and carriage riding services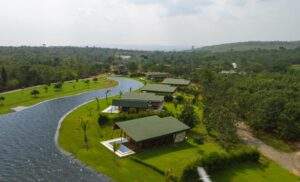 contact: +233593815601
CONCLUSION:
the number of Horseback riding schools and equestrian services is growing even more with the rise in people's interest in equestrian activities.
Reference:
GoogleMaps
google images
YCMC