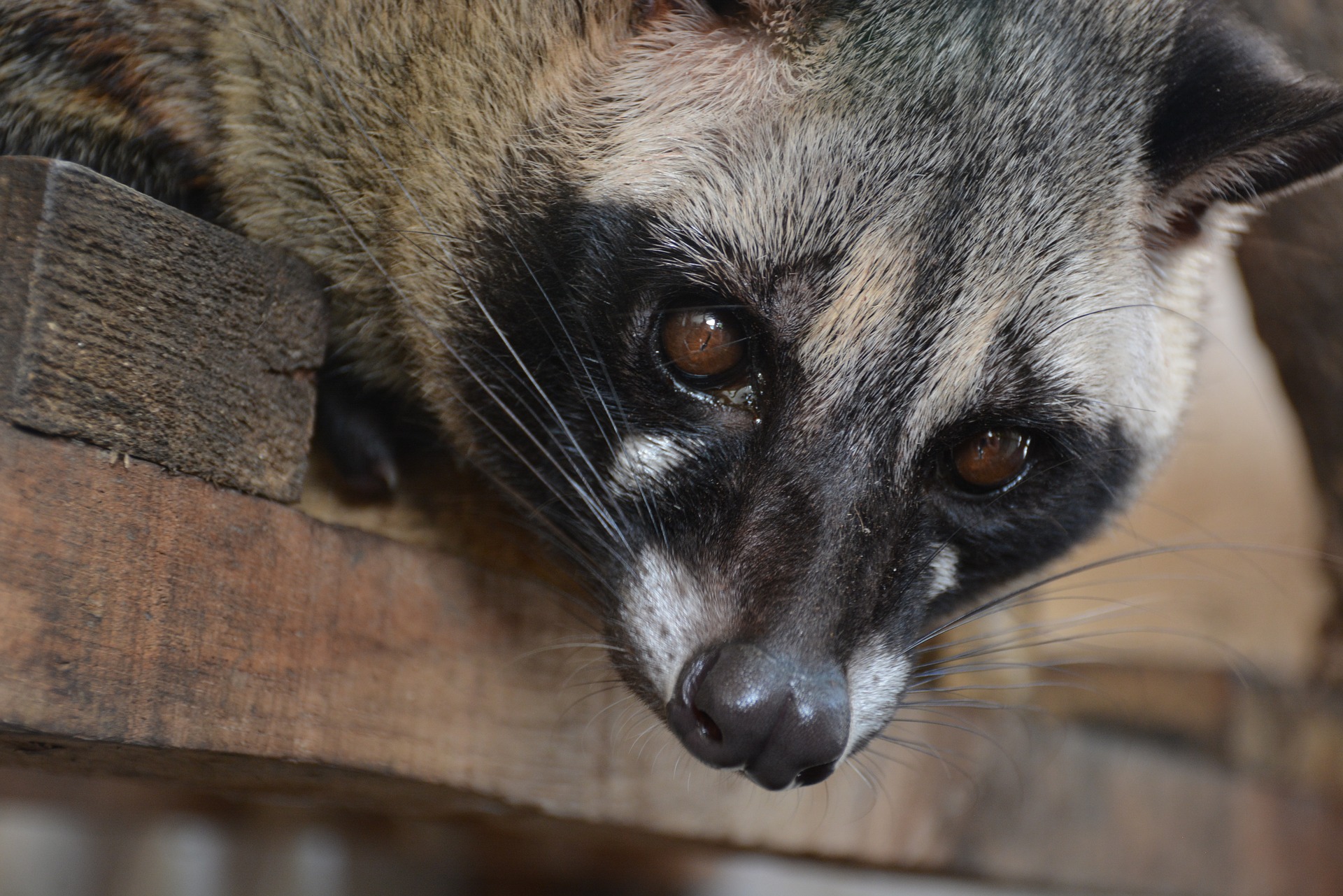 The rise in deforestation and human encroachment as well as indiscriminate hunting has contributed to the decline in the wild civet cat populations. In this article, we shall consider the need to protect civet cats from going extinct by integrating them properly into human communities through domestication.
CIVET CATS IN CAPTIVITY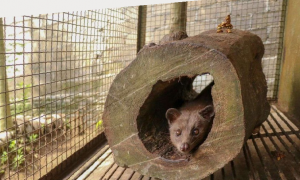 For hundreds of years, civet cats have been kept in captivity with higher rates of survivability. As recorded by the FAO, civet cat farmers have kept civet cats for more than two hundred years for musk production although amidst some animal welfare issues. It is stated that about 200 farms are containing over 4000 civet cats with each farmer keeping 10-15 civet cats on average (www.researchgate.net).
DOMESTICATION OF CIVET CATS-CHANGING THE NARRATIVES
From the above paragraph, it is clear that if proper study and investment are put into the welfare issues of civet cats, captivity could be changed to domestication. In our article on keeping African civet cats as pets (https://animaltract.com/african-civet-as-pet), it was mentioned that civet cats are trainable and a few people have succeeded in keeping civet cats as pets. The process of domestication may take the time or maybe generations of civets to reach the final goal but however difficult it may be, it is doable. Knowledge and science are advancing very fast such that information abounds. Your ability to understand the behavior patterns of an animal helps you know the dos and don'ts. Have you heard or seen people keeping and mingling with lions? Once you can communicate to the animal that you are a friend and you mean no harm and you prove it over and over again, the animal will eventually accept you. Another good example is that sheep before domestication were considered wildlife but after years of domestication, no one considers sheep and goats as wild animals although we still have sheep and goats in the wild.
"sandy colic in horses can be that easy to manage, find out from this study case"
RECOMMENDED HOUSING FOR CIVET CATS
This is still a subject of study, however, to eliminate animal welfare issues I recommend at least a 5m square area for 5 or fewer civet cats with each of them having a separate hiding area with adequate enrichment. The design should be such that there will be an open area where the civet cat can walk around to exhibit natural behaviors and interact with a human companion. There should also be a well-designed civetrine or at best you can allow them to choose their favorite spot then you can design it in such a way as to be able to empty it regularly. Keep the entire cage fenced/enclosed until your civet pet begins to accept you.
FEEDING YOUR CIVET PET.
Although African civet cats are carnivores, they are considered omnivores, civet cats naturally eat fruits, insects, and smaller reptiles including snakes. In captivity, they feed on maize meal, meat, vegetables, and eggs as well as birds. Just make sure their feed is well rationed to provide their nutritional requirement.
REASONS WHY SOME PEOPLE ARE AGAINST DOMESTICATION OF AFRICAN CIVET CAT
The exploitation of the species: it is believed that different people hunt, capture, or keep in captivity either for food, for their musk, for their feces, or exhibition. As a creation, we are interdependent, over-exploitation is cruel to any species but if farmers, zoos, or pet owners could provide a comfortable environment, good health care, good nutrition as well as protection from the predators of African civet cats, there should be a way to strike a balance for a mutualistic kind of relationship.
Animal welfare issues especially with husbandry practices: over the years civet cats are kept in very small cages and are prevented from exhibiting their natural behaviors which amounts to animal cruelty. However, if African civets can be allowed to exhibit their natural behavior in a space that rightly mimics their natural environment, there will be no animal welfare problems.                                             
African Civet Considered shy or like to live in isolation or better still hide: research has proven that although African civet cats are carnivores and prey on smaller reptiles and insects, they are also preyed upon by big snakes, lions, leopards, and other bigger cats who also live in the same habitat. This has led the African civet cat to adapt to hiding from predators while it preys on smaller animals.
WHY DOMESTICATION OF THE AFRICAN CIVET CAT IS THE NEW NARRATIVE.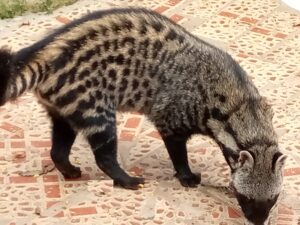 You can refer to our previous post on keeping African civets as a pet through this link https://animaltract.com/african-civet-as-pet).
5 REASONS WHY PEOPLE CHOOSE AFRICAN CIVET CATS OVER DOMESTIC CATS (FELIS CATUS) AND DOGS
Size: on average, the African civet cat is bigger (from 7-20kg of body weight )than the domestic cat(average body weight up to about 5kg) but smaller than the average weight of dogs, and for some people make African civet cat more attractive
2. Pattern and nature of fur: the unique blend of black, brown, tan, grey, and other colors into unique patterns make the African civet cats' fur so attractive and more beautiful than the domestic cat and dog
3. African Civet Cats share common behaviors with cats and dogs: cleaning and grooming are observed in African civet cats although in a slightly different pattern to how cats clean their body. The observed behavior of African civet cats according to a study by Ewer and Wemmer in 1974 describes a resemblance to domestic cats, domestic dogs, and some other members of Canidae and Felidae. In other words, African civet cats in captivity sometimes behaved like dogs but more often behaved like cats.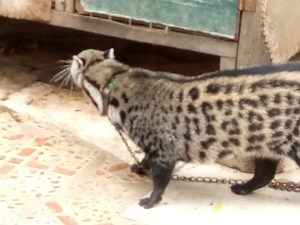 4. Danger to humans: African civets are not as dangerous as they are made to look, the study of the behavior of African civets in captivity shows they are unable to kill bigger animals, the largest animal being an adult chicken, rats, and snakes that may be a meter long. African Civet cats are maybe able to cause injuries in humans just like if you approach any animal that is not used to you but it is unlikely that they can cause fatal injuries in humans. Relatively, aggressive dogs may be more dangerous than African Civet cats. If African civet cats are domesticated, they may be better companion animals than cats and dogs. Just like evolution has enabled dogs and cats to be able to produce many facial expressions and body language, civet cats may evolve slightly to adapt properly to the human society
5. There may be more benefits human companions can obtain from their civet pets, some of these may include;
Companionship
African civets can rid your compound of small reptiles that are a menace to most homes
Palm civets can help you get access to the most expensive coffee in the world which is very organic at no cost
Unlike dogs and other carnivores, the anal secretions of civet cats are of economic value. Just like when the anal gland is filled with anal gland secretions brings discomfort in dogs, African civets may also feel uncomfortable when their gland is full. Helping them empty their gland of the musk may be a relief especially if it is done humanely.
Human companions will also get to experience the beauty of being with a unique species that behaves both like a dog and a cat
POINTS TO NOTE:
Always talk to your local veterinarian and wildlife veterinarian before choosing a civet cat as a pet.