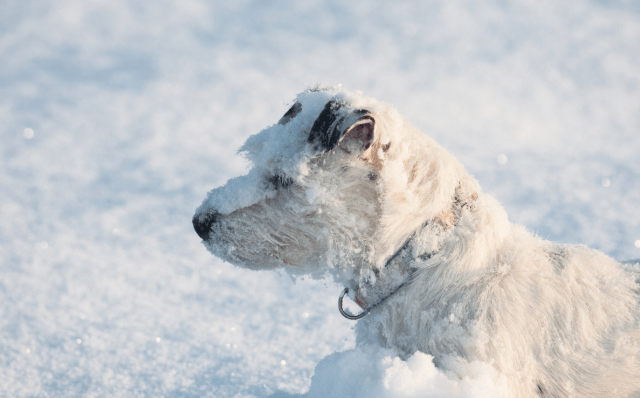 Frequent Issues with Dogs in the cold
A few typical issues that can afflict dogs in the winter include:
Dogs' skin can get dry in the cold, which can result in flaky, itchy skin and even hot spots.
2. Short-haired dogs could be more susceptible to becoming cold and would benefit from donning a sweater or coat.
3. The paws of a dog can become irritated by the salt and other de-icing agents used on sidewalks and highways. After walks, make sure to use a moist cloth to clean off any salt or chemicals from your dog's paws.
4. A dog's activity level may drop in cold weather, which may result in weight gain. Ensure that your dog's nutrition is adjusted appropriately, and encourage them to exercise frequently.
5. Dogs are susceptible to frostbite, particularly on their tail, paws, and ears. Make sure your dog has access to a shelter and a warm area to relax if they must spend a lot of time outside in really cold weather.
I hope you find this material useful. If you have any further inquiries, please contact us.
Foods you can not give your during winter
To avoid lots of issues during this winter, kindly remember not to give the following foods to your to keep your pet healthy and aware from the emergency room!
You should never feed the following foods to your dog, whether it's winter or not:
Toxic chocolate can make dogs throw up, have diarrhea, tremble, and even die.
2. Garlic and onions should be avoided since they might make dogs anemic.
3. The chemical persin found in avocados can make dogs throw up and have diarrhea.
4. Dogs who consume raisins and grapes risk kidney failure.
5. Dogs who consume nuts, particularly macadamia nuts, may experience tremors and other symptoms.
6. Alcohol can be harmful to dogs and can result in tremors, vomiting, diarrhea, breathing problems, and possibly a coma or death.
7. In a dog's stomach, raw dough or bread dough containing yeast might expand, causing bloating and other issues.
I hope you find this material useful. Always be cautious of what you give your dog, and if you have any concerns, speak with a veterinarian.
you can also check out tips for caring for your dog during the winter