The Veterinary service directorate of Ghana in collaboration with GPP, USDA, FAO, Animal Research Institute, and the poultry farmers association of Ghana through scientific research has come up with a poultry vaccination schedule for Ghana based on the diseases present in Ghana.
COMMON POULTRY DISEASES IN GHANA
The poultry industry in Ghana has suffered major losses to vaccine-preventable diseases such as Avian influenza, Newcastle disease, and infectious bursal disease(Gumboro) among other bacterial infections.
Diseases such as fowl pox, fowl typhoid, infectious coryza, colibacillosis, aspergillosis, infectious laryngotracheitis, infectious bronchitis are commonly diagnosed on poultry farms in Ghana. If you are new to the poultry industry in Ghana, these are diseases you need to pay attention to.
IN GHANA, WHAT POULTRY VACCINES DO I HAVE TO GIVE MY BIRDS ON MY POULTRY FARM?
Viral diseases are best prevented through vaccinations. The high cost of treatment and its related economic losses have proven that the use of vaccines to prevent diseases increases profit margins for poultry farmers.
There are vaccines available that are effective against Newcastle disease, Gumboro, Marek's disease, fowl pox, and infectious bronchitis. Although other countries vaccinate against other diseases including some bacterial diseases, poultry vaccinations permitted by the laws of Ghana are mentioned above and that is based on the epidemiology of the disease in Ghana.
check this out if you love and own horses
GHANA POULTRY VACCINATION CHART.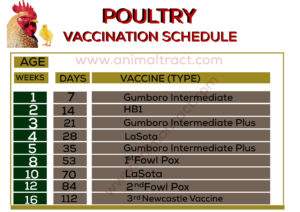 This chart is to help you know which vaccinations you will be required to give your birds if you are new in the industry. Breeders, broilers, and layers have slight differentiation in the poultry vaccination protocol. Contact your local Veterinarian to assist you with the guidelines for vaccinating your birds in Ghana.
for more clarifications call +233544125712.
follow this link to know the veterinary clinic closest to your home.
reference:   The Veterinary Service Directorate of Ghana